I spent the weekend at the Griffin Dye Retreat, and had a most wonderful time. Short version: Good location, fascinating people, and lots of time in the dye pots makes for a great weekend. There are a couple dozen pictures below the cut:


The retreat took place at a boy scout camp just north of Los Angeles, California. Driving through LA reminded me why I really don't want to live there (too many people, too much smog), but the area by the camp was quite pretty.



Eric & Kevin drove over with me, and dropped me at the retreat before heading up the mountain for a father-son camping weekend. I decided that it was awfully nice to have two people to cart my gear for me, and even nicer to have my tent and cot already set up and waiting for me. This was home sweet home for the weekend:




I got myself settled in, and headed down to social central. Folks were already hard at work. Or is that hard at play?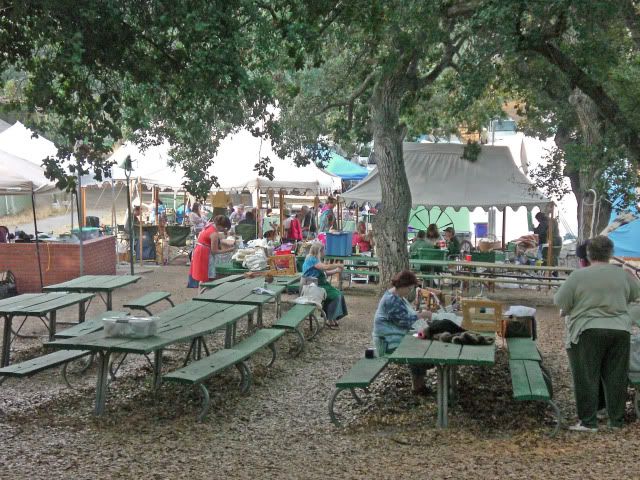 In any case, the lines were already hung with lots of cool looking projects.




Bjo was pulling neat tie dye out of the indigo pot.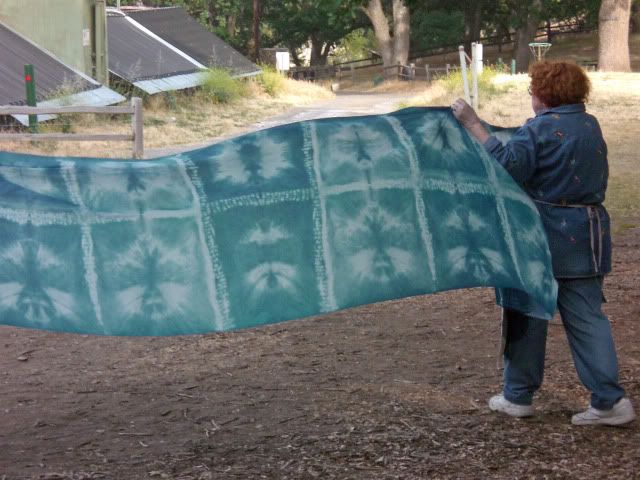 And the tent city was full of folks socializing and working on projects. Have you ever seen so many spinning wheels in one place at a time??




The dye pots were pretty quiet, and I knew from past years that Saturday would see a feeding frenzy at the pots. So, I took the opportunity to dunk my grey single ply hand spun into the indigo pot. It took two dips, but I ended up with a beautiful deep blue that should weave up wonderfully.




After (or was it before...? it all runs together) dinner...



...I sat in on a class on how to spin for embroidery. There was a group embroidery project being started this weekend, and folks were spinning and dyeing yarn for it. I've been spinning for knitting and weaving recently, but I decided to give it a try. I hauled out my Hitchhiker wheel, and grabbed some white roving from the freebie table. I managed a two ply that was about half the thickness that I've been spinning recently. It was still too big for embroidery, but I decided that it would make good samples for the dye pot. I also took the time to warp up my inkle loom, and tied strips of plastic bags around the warp in places to act as a resist. By this time I was the last person up, so I packed it in and went to bed. Tip to the wise: make sure your sleeping bag is zipped before you go to bed, especially if you have a room mate and don't want to turn on a light to wake her up. :)

I started the next morning by trying my hand at the mud dyeing.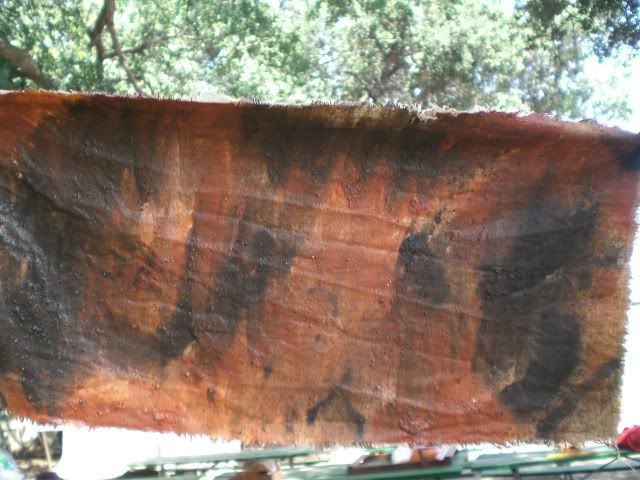 Those will have to sit for a week before I rinse the mud off, to see if the stain took at all. I'll be curious to see what I get.

Then I started playing in the dye pots.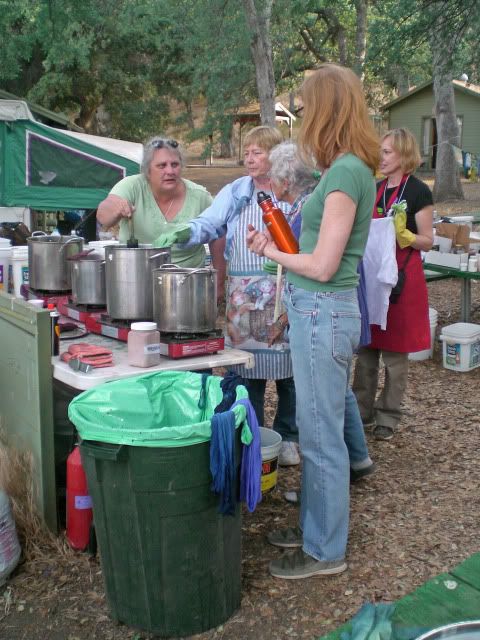 In previous years, I'd play in the colors all weekend, and then not be able to remember how I got the results I did when I got home. This year, I decided to keep records and make samples. I used the wool I spun up the night before, and put half of the mini skeins in the alum mordant, and half in the copper mordant. Then I took two alum and two copper skeins to dunk in each of the different dye pots. We had kamala, brazilwood, dyer's broom, and indigo going. I set half the samples aside once they were dyed, then took the other half (one alum and one copper mordanted skein from each pot) and overdyed the colors in an exhausted indigo pot. This gave me quite the rainbow of colors, once I was done. As I went along, I took snips of the yarn and threaded them through 3x5 cards, and jotted down the info on how I got the various results.




I also dyed up one batch of handspun a variegated blue (in the middle of the picture).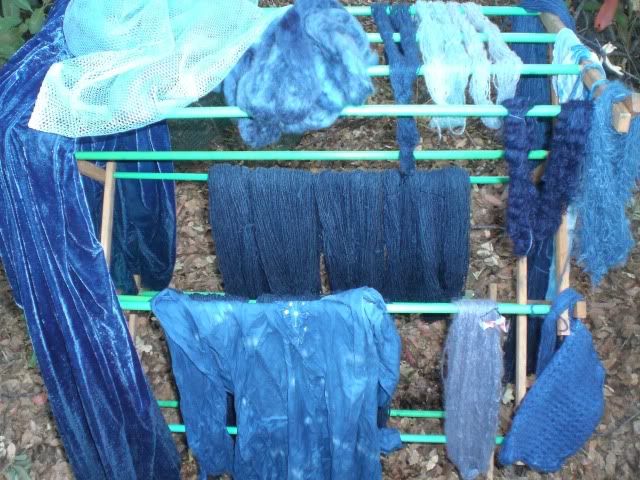 The other batch of handspun that I had with me went half in the indigo, and half in the brazilwood.



While I was at it, I dyed the inkle warp in the kamala (orange). Then I cut off half of the plastic strips, and slid the other half up the warp. The whole thing went back in the brazilwood pot. It was mordanted just with alum. I think I needed to mordant it also in the one that had some tannin in it. Better next time. After I finished in the dye pots (I also did 4 shirts), I got the warp back on the loom and started weaving. It is subtle, but pretty.




After dinner we had a raffle. I ended up with some lovely fiber to spin, and some music to spin to.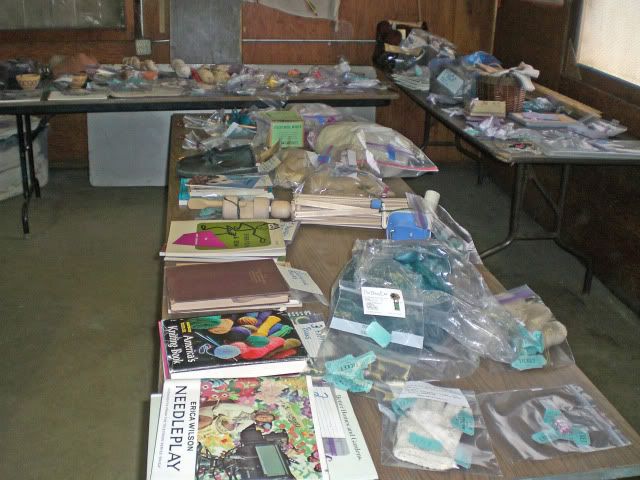 That evening, we had a great archeology slide show, then I sat around and did some kumihimo and chatted until about 1 in the morning. Fascinating people. I could sit and listen and talk for hours. Come to think of it, I did. :)

Sunday morning was show and tell time. Everyone set out their work, and we all walked around to oooh and aaah.



The Bjo Tapestry project was on display. They got a start on it, and will be working more on it as time goes by.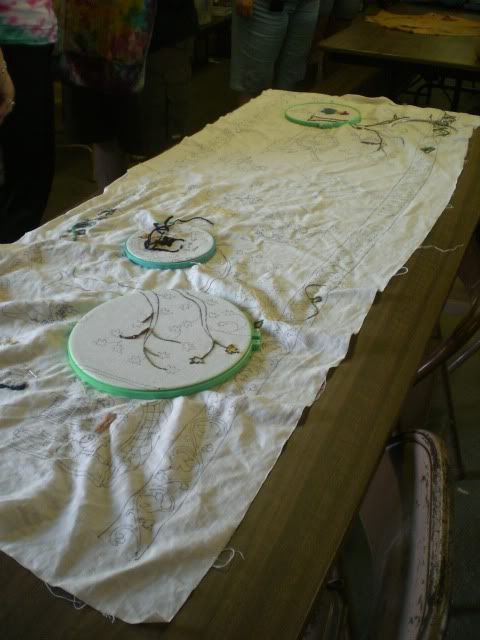 I got told I was a bit of an over achiever when folks looked at my display. The samples and record cards, the inkle loom, the mud dying, three batches of hand spun yarn, 4 shirts, and the ruana that I dyed the warp for last year were all on display. Hey, I had fun!!



Then it was time to pack up and call the guys. While I was waiting for them to show up, I bought a drop spindle to add to the collection, and got to try my hand at tri-loom weaving.



Folks were getting last minute projects done.



The last of the day's work was drying on the fence.



And people were starting to wonder if their hands would ever be clean again. :)



The guys showed up at lunch time, and we headed back toward the blue skies and heat of Arizona. The wind farm on the way back across California always fascinates me.:)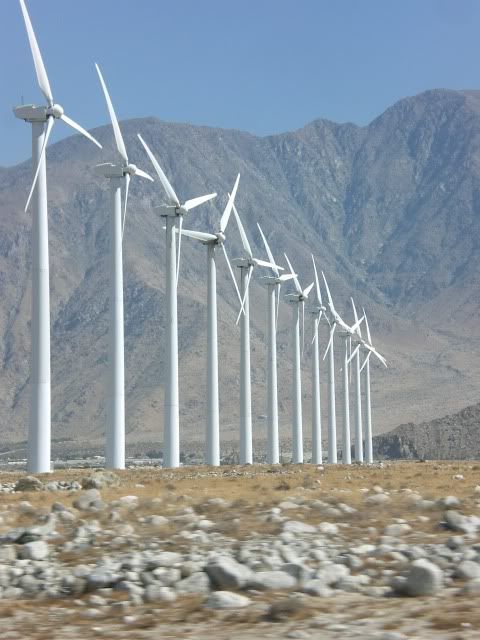 The drive was uneventful, and we arrived safely home in time to meet up with the rest of the family for a late dinner.

Great weekend. I'm looking forward to doing it again next year!